Gunsmoke in Utopia III
the Opera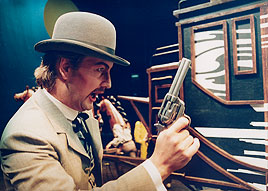 For 5 singers:
The Beautifull girl soprano
The Saloon-girl alto
The Bandit tenor
One of the Heros baritone
The Sheriff bass
One Silent Actor – The other Hero
Dancers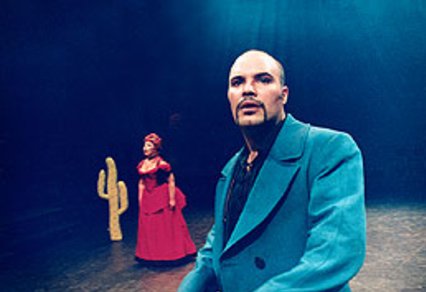 Orchestra:
2 flute
2 oboe
2 clarinet
2 basson
2 horn
2 trumpet
3 trombone
2 percussion
harp
celesta
strings
Duration: ca One Hour.
I actually counted out the tempi and the beats the other day and it summed up to one hour and 7 seconds :-).
The storyline has the following parts:
Introduction
In the Saloon
The Saloon Fight
The Night
The Hold-Up
The Hunt
The Big Fight
Are They Alive?
The Ending
The text:
The text is written in six languages: english, french, german, spanish, italian and latin.
The text consist basically of key sentences like:
So many guns in this town and so few brains.
Je love le garcon, il est tall, il est strong, il est magnifique.
Ich bin das maedchen das pretty maedchen, Ich bin fahren mit dem stage-coach.